Click Here for YouTube Links to IAJSD Past Performances
Upcoming Events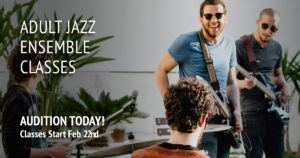 Adult Jazz Ensemble Classes Now Available!
Now offering adult jazz ensemble classes at Grossmont College on Saturdays. Starting Feb 22nd, International Academy of Jazz will be auditioning candidates for their first ever adult jazz classes for the spring semester. This 12 week program will prepare ensembles to perform in live gigs and participants will be guided by professional working jazz musicians.
NOW IS THE PERFECT TIME TO RE-CONNECT WITH MUSIC!
Have you always wanted to play in a jazz band? Did you play music back in high school or college and then get so busy that you lost touch with something you loved? Are you recently retired and eager to make music a bigger part of your life? International Academy of Jazz, San Diego, makes it easy and fun for adult musicians at all levels looking to develop their skills.

International Academy of Jazz is well known for its excellent teachers and a nurturing, supportive environment. Director, Guy Gonzales carefully matches each student with a faculty member suited to their skill level, learning style and musical interests. Most of our classes are senior-friendly.
Open to adults interested in learning the art of improvisation in combos. Must have at least two years of experience on their instrument, be able to read music and chord changes. All levels are offered from beginning jazz musicians to highly advanced musicians.
Give us a call at 619-977-7453, or stop by to observe a class or lesson.
Enroll Now!
JOIN A JAZZ ENSEMBLE
Playing together is just more fun! Share your love of music with like-minded musicians at weekly sessions guided by experienced coaches and San Diego's top jazz musicians. Make new friends as you improve your skills and learn new repertoire.

EXPRESS YOURSELF THROUGH SONG
Singing is a joyful and deeply satisfying experience. At International Academy of Jazz you can belt out your favorite show tunes, delve into the history of classical jazz songs and indulge your inner diva!

REVOLUTIONIZE YOUR RELATIONSHIP WITH MUSIC
Whether you're a seasoned performer, an educator, or a music student of any age, we can help you feel and understand music in a whole new way.

THE JAZZ PROGRAM AT THE INTERNATIONAL ACADEMY OF JAZZ
Directed by celebrated jazz guitarist Guy Gonzales, IAJSD'S unique Jazz Program is designed for adult singers and instrumentalists of all levels, from beginners to advanced students. We offer ensemble classes with professional instructors. Our faculty members are some of the top jazz musicians in San Diego, here to provide you with a fun and satisfying learning experience that can't be found anywhere else in San Diego.

MUSICIANSHIP
Read between the lines of your favorite music! Essential for singers and instrumentalists, the study of theory and composition accelerates music learning and enhances creativity.

SENIOR-FRIENDLY CLASSES
Now is the perfect time to re-connect with an old passion or explore a new interest in a supportive, social environment. We can match seniors with the perfect faculty member for our ensemble groups that fit their interests and skill level.

Schedule your audition today!
Auditions and classes will be held at:
Grossmont Community College
8800 Grossmont College Dr, Room 220
El Cajon, CA 92020

All students who wish to join IAJSD for the second semester are required to attend a placement audition.
The student will be assessed on:
1) Sight reading: Instructors will supply music to read
2) Jazz melody solo* and
3) Improvisation* of your choosing
*Please provide your backing tracks for the melody and improvisation on an MP3 or device of your choosing.

Enroll Here
A Night to Remember with Cécile McLorin Salvant
As a young singing sensation, Cécile McLorin Salvant won her first Grammy Award in 2019 for her jazz vocal album The Window!
Born in Miami, Cécile has been hailed as the finest young singer in jazz. In 2016, she made her debut appearance in San Diego at the Symphony Bayside Summer Nights representing "The Future of Jazz," and was backed up by a select trio from the International Academy of Jazz, a San Diego-based nonprofit organization. She spoke openly to the San Diego Union Tribune about music and fear (See Article: https://www.sandiegouniontribune.com/entertainment/music/sdut-cecile-mclorin-salvant-interview-2016aug13-htmlstory.html). In this article, she reflects on how, even though she was taught classical piano and voice, she gravitated to jazz singing because using that art form, she feels better able to connect with an audience and fully express herself. This quote says it all.
But, first and foremost, what I strive for is this nameless thing, this really, really deep feeling you get when you are in front of a piece of art or listening to some music. Either it gets you or you get it, so some sort of connection is made.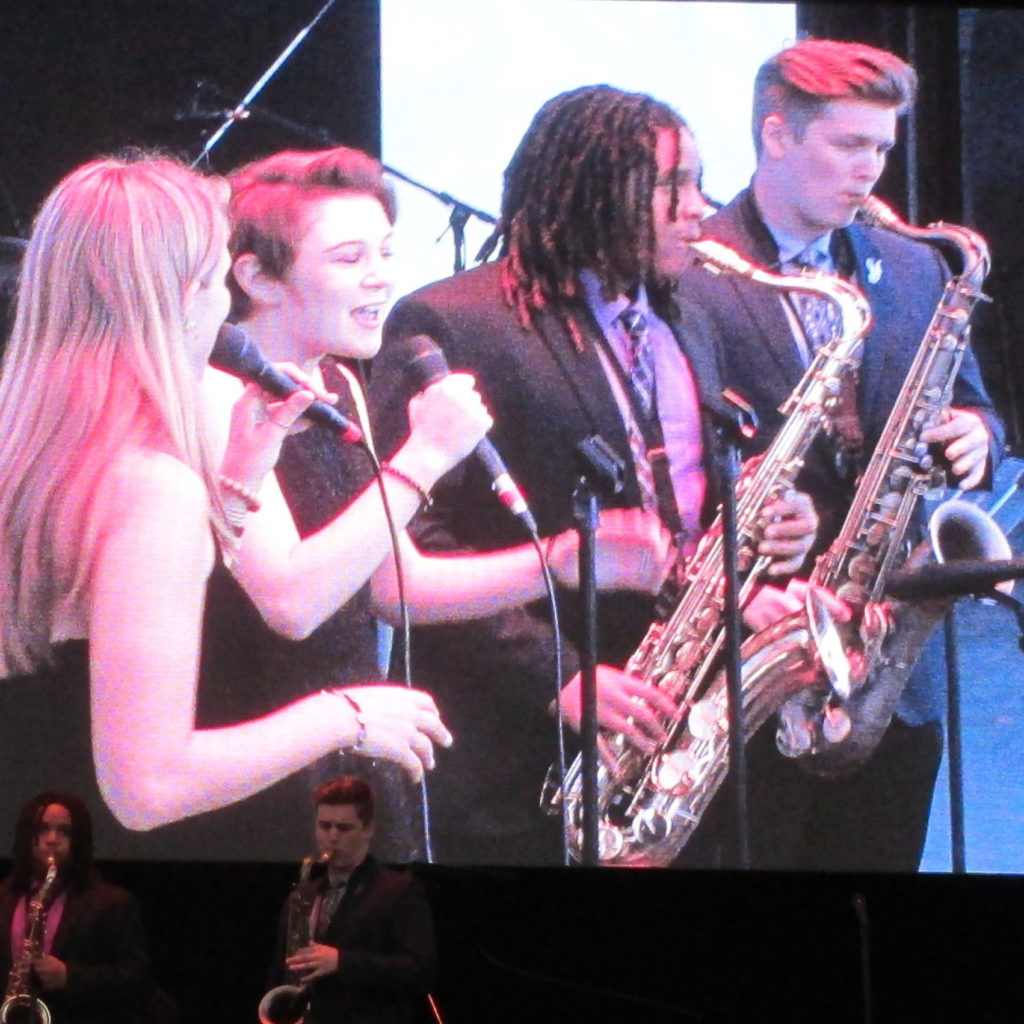 We were elated to be part of this gathering. The International Academy of Jazz's prime ensemble opened the show and included 12-year old bassist, Johnny Murray, with an introduction of Charlie Parker's "Billie's Bounce". This in turn, opened up a series of solos from tenor saxophonist Sean Lambert, vocalist Zion Dyson and Emma Christie-Foster, pianist Edward Gabrielyan and tenor saxophonist Alvin Paige. Johnny Steele was quick to join with his drums as the crowd was swept away with this barrage of young talent, all under the age of 18! It was a spectacular performance from everyone at the Academy and they earned an exuberant round of applause. It was a night to remember. (Read more about this event here: https://www.nbcsandiego.com/blogs/sounddiego/The-Future-of-Jazz-is-Here-391539741.html)
Join us for our Holiday Celebration of Youth and Jazz (link to event page here), Silent Auction, and Gift Giving Event on Dec 21, 2019 at Grossmont College and see for yourself these amazing and talented students. Come be a part describe yourself essay of The Future of Jazz! See eVite: http://evite.me/DMUSGQRuCp