SUPPORT US!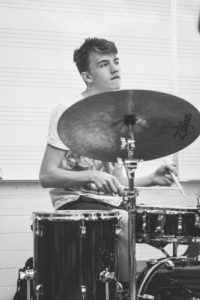 IAJSD is open to current music students aged 10-18 years old, both vocalists and instrumentalists. Rehearsals are held each Saturday throughout the school year in the Music Building at
Grossmont College
,
8800 Grossmont College Dr., El Cajon, CA 92020.  Students have several performance opportunities throughout the year at local events, festivals and parades.  Student ensembles are led by top jazz performers and experienced educators, including Kamau Kenyatta and Marshall Hawkins.  IAJSD is happy to work with students of all levels.
Additionally, all IAJSD students will have the opportunity to perform at local events, festivals and parades.
Auditions

Auditions are now open for the 2017-2018 academic year! All students are required to attend a placement audition, which we will hold on August 26, 2017.  Follow this quick and easy 3-step process to sign up for your audition time slot:
 Click on "Sign up" in the desired 10-minute time slot.
 Fill in each blank and answer the simple question that lets us know you are not a robot.
 Click the "Sign up" button.
Fall 2017 Auditions
Date: June 28, 2017
Sign up below...
Thank you! We look forward to working (and playing jazz) with you!
Tuition
$1000 / year for new students, paid annually
$1035 / year for new students, paid semi-annually ($460 semester One payment – $575 semester Two payment- beginning January 6th, 2018)
$675 / for students entering IAJSD in the second semester beginning January 6th, 2018
$1125 / year for new students,$125 paid monthly (9 monthly payments)
50% discount given to sibling in same registration period
Limited scholarships, based on need, may be available.  Email info@iajsd.org for details.
2017-18 Schedule
We will not meet Nov. 25, Dec. 23, Dec. 30, Jan. 13, 2018, Feb. 17 and March 31 due to public school holidays.  Last class is May 19, 2018.