SUPPORT US!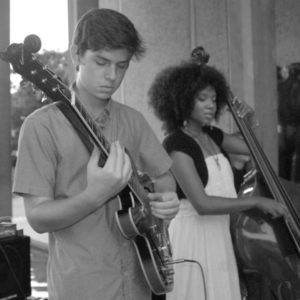 Mission Statement: "To help young people develop performance skills and confidence in becoming leaders of the future, and to educate them in the heritage of American jazz."
The nonprofit 501(c)(3), International Academy of Jazz San Diego (IAJSD), is a unique after-school music enrichment program for young people ages 10 – 20 who have a desire to improve their jazz skills beyond the scope of what typical local school systems may offer. IAJSD was founded in 2014.
Patterned after the many successful local after-school youth symphonic programs, the IAJSD features jazz ensembles of various sizes geared towards performances. In our 2015-16 season our advanced students performed two concerts at Symphony Hall (TedX San Diego and Jazz @ the Jacbos) for crowds of over 2000. They also were selected as finalists for the prestigious Next Generation Jazz Festival and traveled to Monterey, CA to compete. All IAJSD students are encouraged to perform Young Lions concerts at Panama 66 in Balboa Park.
This year, 2016-17, we have grown our organization to 44 students and three instructors.  Students have been placed in one of seven ensembles of the appropriate level.  Gilbert Castellanos leads three, Rob Thorsen and Kamau Kenyatta each lead two.  Click here for faculty bios.
In 2015 – 16 IAJSD had a total of 25 students in three classes.
Students rehearse for an hour and a half on Saturdays during the school year at Grossmont College.
Please click here to see our Board of Directors.
Photos courtesy of Robert Sanchez.
WordPress theme by SKT Themes.