SUPPORT US!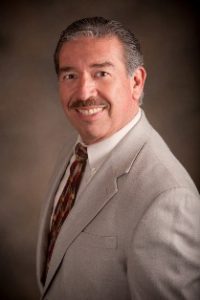 Guy Gonzales

Executive Director
Guy Gonzales was born and raised in San Diego, California where he began his music career, and through music, met his wife of 33 years, Lynette. They raised 3 children in San Diego while Guy developed a career in Advertising Sales with Cox Communications and then, re-tooling his skills, became a Financial Advisor (for the last 15 years) from which he recently retired to focus on building the nonprofit, after-school program called The International Academy of Jazz – San Diego.
Guy's business involvements have included various Chambers of Commerce's including the Del Mar Chamber and the Regional San Diego Chamber.In the nonprofit world, Guy has served as a Director with the El Cajon Rotary, The East County Chamber of Commerce and the San Diego Young Artist's Symphony (now The Mainly Mozart Youth Orchestra). As an officer he has served as Treasurer for The Foundation for Grossmont and Cuyamaca Colleges. He has also served on fund-raising committees for The Juvenile Diabetes Foundation and Rady's Children's Hospital.
As a musician Guy has played with internationally acclaimed jazz artists including; Sonny Rollins, Larry Coryell, and Claire Fisher. He has also played for many celebrities including a former US President. Guy has had the distinction of performing on the KPBS award-winning music program called "Three Generations of the Blues" featuring blues legend Big Mama Thornton. He has also recorded with local Jazz artists including The Bruce Cameron Quintet, The Carlos Angeles Band, as well as Mark Hunter and, the late, Carl Evans from Fattburger. Guy continues to perform in Southern California with his Gypsy Jazz trio called The Gypsy Swing Cats.
---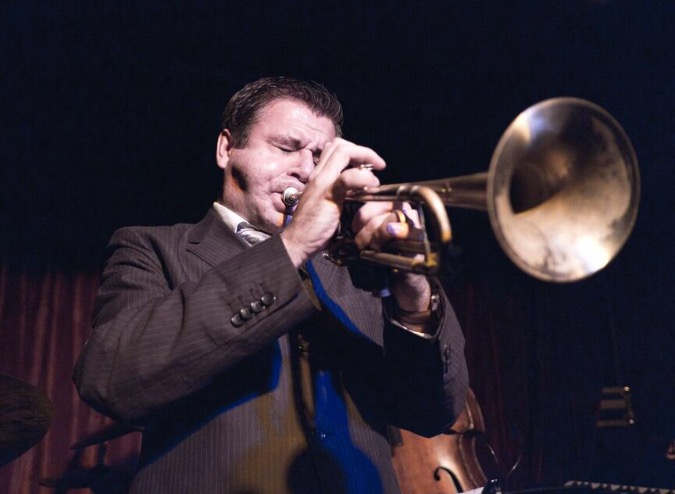 Gilbert Castellanos

Artistic Director / Instructor
Gilbert Castellanos, a nationally renowned trumpet virtuoso based in Southern California, makes music that sounds effortless. Skilled with impressive dexterity and control, his clarity of expression moves listeners on a deeply emotional level. Recognized in 2006 as an American Master by Downbeat Magazine, Castellanos has established himself as one of the nation's most inventive improvisers in stirring live performances as a member of the Clayton Hamilton Jazz Orchestra, Anthony Wilson Nonet, Charles McPherson Quintet, Willie Jones III Quintet and as leader of his own groups.
Zan Stewart of the Los Angeles Times says: "[Castellanos] plays with élan, evincing a more individual, ever-large sound offering hard swinging, often ear-grabbing solos…[proving] that music with deep roots in jazz's glorious '50s and '60s can sound completely contemporary today."
Castellanos was born in Guadalajara, Mexico, where his father performed as leader, singer and arranger of the popular cumbia band, Gil Castellanos y Su Copacabana. His father's love for classical composers and big band jazz broadened young Gilbert's horizons from an early age, and he was encouraged to become a jazz musician.
After completing his formal music education at two of the nation's renowned institutions, Berklee College of Music in Boston and Cal Arts in Los Angeles, Castellanos quickly rose to national attention as a member of the celebrated band Black/Note, with whom he recorded three albums: "L.A. Underground" (Red Records), "Jungle Music" (Columbia Records) and "Nothin' But the Swing" (Impulse Records). His recording career since Black/Note has seen Castellanos thrive as a player, bandleader, composer and arranger on three acclaimed albums: his soulful 1999 self-titled debut release "The Gilbert Castellanos Hammond B3 Quartet," his eclectic second offering "Underground" (Seedling Records, 2006) and "The Federal Jazz Project" (Dobie Music, 2013).
Between recordings, Castellanos keeps busy as one of the most respected sidemen and soloists working today. The first time Grammy winning bassist and co-leader of the Clayton/Hamilton Orchestra, John Clayton, heard Castellanos play with their band, Jeff Hamilton turned to him and said, "He's a breath of fresh air!" While seated beside Count Basie band veteran, Snooky Young, Castellanos grew as an integral force in the success of this world famous touring and recording ensemble. According to Clayton, he appreciated how Castellanos "always finds new life and new energy to breath into the notes I write and the grooves we play with him." The performing and recording credits keep growing: Castellanos has worked with internationally acclaimed artists Dizzy Gillespie, Quincy Jones, Wynton Marsalis, Horace Silver, Christian McBride, Lewis Nash, Oscar Hernandez, Les McCann, Diana Krall, Willie Nelson, Michael Buble, and Natalie Cole, to name a few. In 2009, he played live for millions of listeners as a member of the supporting band on "American Idol."
Over the years, Castellanos has received continuous recognition for his musical endeavors. The San Diego Music Awards (SDMA) selected both "Underground" and "The Federal Jazz Project" (the latter, all original score by Castellanos as part of a musical theater collaboration with the San Diego Repertory Theater) to receive it's prized "Jazz Album of the Year." Castellanos was also recognized by the SDMA as it's overall "Artist of the Year" in 2013, as well as "Jazz Artist of the Year" in 2015, 2014, 2013, 2002, 2001. The San Diego Theater Critics Circle bestowed it's 2013 "Craig Noel Award for Outstanding Musical Performance In A Play" to Castellanos for his work in "The Federal Jazz Project." This year, City Beat San Diego Magazine's annual reader's poll voted him as the "2016 Best Jazz Band." He has also received accolades from the City of Los Angeles and Councilmember Gilbert Cedillo for his participation in the 3rd annual 2016 Latin Jazz & Music Festival.
A passionate advocate of formal jazz education, Castellanos is the Artistic Director of the International Academy of Jazz San Diego, regularly conducts high school workshops and is a lecturer at the University of Southern California's Thornton School of Music. He is also a firm believer in the type of "real world" education jazz musicians have counted on to learn the ropes since the music was born. A champion and advocate for the "next generation of jazz," Castellanos is the Founder and Curator of The Young Lions Series, a two-hour weekly program highlighting the brightest up-and-coming jazz musicians from San Diego and Southern California, many of whom he has personally taught and mentored. He has hosted over 60 nights and more than 200 young musicians in the series to date. For his high standards and deep commitment as a music educator, The San Diego Youth Symphony & Conservatory will celebrate Castellanos this November at a special concert as a recipient of their "2016 Profiles in Music Education Award," an honor given to "the county's dedicated music educators whose contributions enrich the lives of our youth, their families and our communities."
In his chosen home of over two decades in San Diego, California, Castellanos has hosted the longest-running and  legendary weekly jam session in various downtown warehouses and clubs, including The Onyx Room and Seven Grand. Currently, you can catch his session on Wednesday nights at Panama 66, where Castellanos develops new material with his own band, while giving up-and-coming players a chance to perform with seasoned professionals. Panama 66 was recognized as City Beat Magazine's "2016 Best Jazz Venue," making this the true heartbeat of the jazz scene in America's Finest City.
For two decades, Castellanos has been and is a leader in the overall establishment of  the San Diego jazz scene, and says he will "never give up" in his tireless effort to "put the West Coast back on the map." And he is doing that in a big way as the Artistic Curator of Jazz @ The Jacobs, the first and highly successful San Diego Symphony jazz series. Since 2015, he has brought some of the biggest stars center stage to the Jacobs Music Center in Downtown San Diego including Diane Reeves, Gregory Porter, Eric Reed, Roy McCurdy, Helen Sung and more. His fans and fellow musicians know how important a figure he is, not only to the West Coast sound, but also in helping, as Castellanos always puts it, "keep jazz alive."
---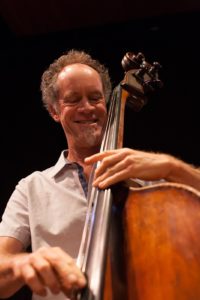 Rob Thorsen

Instructor
Mr. Thorsen maintains a diverse and busy schedule in Southern California as a performer, educator, clinician and composer. He has found his true voice in the upright bass and performs regularly in San Diego with artists including the Mike Wofford / Holly Hofmann Quartet, Charles McPherson, Steph Johnson, Gilbert Castellanos, Mundell Lowe and a host of others. He has released six albums as a leader the most recent "Solos and Duos – Bass is the Space" features a host of talents including award winning pianist Joshua White, trumpeter Gilbert Castellanos, Steph Johnson, Marshall Hawkins and Fernando Gomez.  In addition to performing with his own quartet he has also created "Jazz an American Art Form" – a hugely successful jazz educational program that has been presented to over 8,000 students this year. He also teaches at the annual UCSD Jazz Camp and gives private lessons.  For more information on Mr. Thorsen, please visit his website:  http://www.robthorsen.com/
---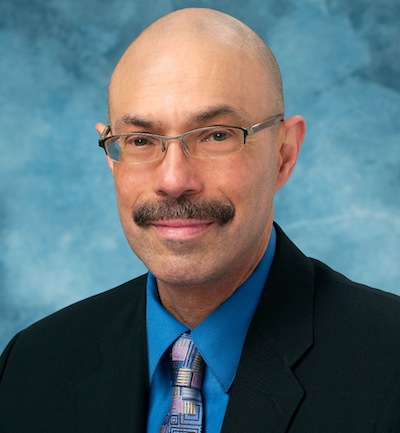 Kamau Kenyatta

Instructor
---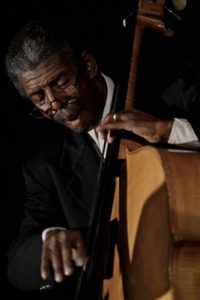 Marshall Hawkins

Guest Instructor
Marshall Hawkins was fortunate to know from an early age that he was meant to be a musician. Born in 1939 in the now "infamous" Anacostia district in Washington, D.C., Marshall's home was always full of music. His mother had a love of the classics, and Bach, Verde, and Puccini were his early companions, along with Nat Cole, Charlie Parker and Jimmy Lunceford.
In 1964, Marshall decided to pick up the bass – and the rest is history. His first professional performance was with Betty Gray, the great Blues singer and pianist. In his mid-20s, Shirley Horn, the amazing Jazz vocalist, chose Marshall as her bassist – her youngest ever. He played with Shirley for almost five years, and then another life-changing opportunity presented itself.
In the late 60s, Marshall joined the Miles Davis quintet (with Wayne Shorter, Herbie Hancock, and Tony Williams) and toured throughout the United States. In 1971, Marshall organized the Marshall Hawkins Quintet and played in the Washington D.C. area until the late 70s when another opportunity appeared. Eddie Jefferson (the innovator of "vocalese") invited Marshall to come to California to be his bassist. From this gig, Marshall was chosen to tour internationally with saxophonist Richie Cole. In the 90s, Marshall's musical collaborators included Joe Henderson, Freddie Hubbard, Pharaoh Sanders, the Manhattan Transfer, and other Jazz greats.
In 1978, Marshall moved to Idyllwild, California, home of the internationally famous high school for the arts. In 1986, he founded the Jazz program at the Idyllwild Arts Academy, serving as the head of the Jazz Department until his retirement. The Idyllwild Arts Jazz program has earned top honors the prestigious Berklee School of Music High School Jazz Festival. In addition to teaching Jazz as an art form, Marshall has mentored hundreds of talented young people who he still consider to be "his kids."
Being well aware of the numbers of talented young people who cannot afford to attend a private high school for the arts, Marshall saw the need to raise scholarship funds for deserving young musicians. In 1994, Marshall co-founded the enormously successful Jazz in the Pines Festival and served as its Music Director for over 20 years.
Marshall is deeply committed to teaching and exposing school children to the uniquely American art form of Jazz. In 2002, he organized the Seahawk Modern Jazz Orchestra (MOJO) and brings unforgettable Jazz and educational programs to elementary and secondary schools. This orchestra also gives Marshall's former students an opportunity to play with an amazing group of musicians and guest artists.