As a young singing sensation, Cécile McLorin Salvant won her first Grammy Award in 2019 for her jazz vocal album The Window!
Born in Miami, Cécile has been hailed as the finest young singer in jazz. In 2016, she made her debut appearance in San Diego at the Symphony Bayside Summer Nights representing "The Future of Jazz," and was backed up by a select trio from the International Academy of Jazz, a San Diego-based nonprofit organization. She spoke openly to the San Diego Union Tribune about music and fear (See Article: https://www.sandiegouniontribune.com/entertainment/music/sdut-cecile-mclorin-salvant-interview-2016aug13-htmlstory.html). In this article, she reflects on how, even though she was taught classical piano and voice, she gravitated to jazz singing because using that art form, she feels better able to connect with an audience and fully express herself. This quote says it all.
But, first and foremost, what I strive for is this nameless thing, this really, really deep feeling you get when you are in front of a piece of art or listening to some music. Either it gets you or you get it, so some sort of connection is made.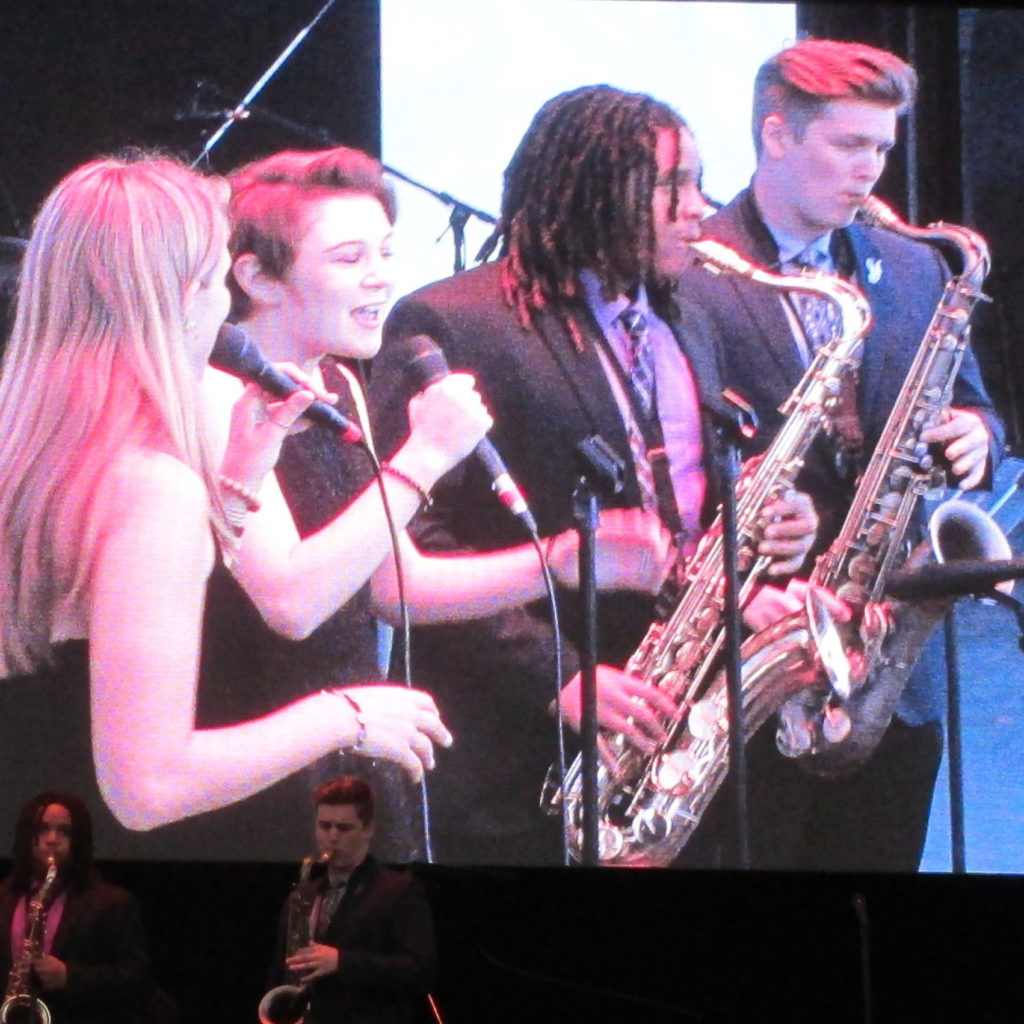 We were elated to be part of this gathering. The International Academy of Jazz's prime ensemble opened the show and included 12-year old bassist, Johnny Murray, with an introduction of Charlie Parker's "Billie's Bounce". This in turn, opened up a series of solos from tenor saxophonist Sean Lambert, vocalist Zion Dyson and Emma Christie-Foster, pianist Edward Gabrielyan and tenor saxophonist Alvin Paige. Johnny Steele was quick to join with his drums as the crowd was swept away with this barrage of young talent, all under the age of 18! It was a spectacular performance from everyone at the Academy and they earned an exuberant round of applause. It was a night to remember. (Read more about this event here: https://www.nbcsandiego.com/blogs/sounddiego/The-Future-of-Jazz-is-Here-391539741.html)
Join us for our Holiday Celebration of Youth and Jazz (link to event page here), Silent Auction, and Gift Giving Event on Dec 21, 2019 at Grossmont College and see for yourself these amazing and talented students. Come be a part describe yourself essay of The Future of Jazz! See eVite: http://evite.me/DMUSGQRuCp