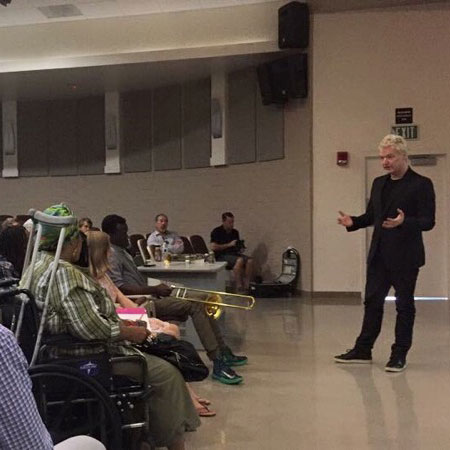 Today, July 28, 2016, IAJSD students and their parents were treated to a master class with Grammy Award winning trumpet virtuoso Chris Botti.  Botti is in town to play a concert in the Bayside Summer Nights series at the Embarcadero for The San Diego Symphony.  Thanks to the generosity of The San Diego Symphony, Botti was able to stop by the Grossmont College Recital Hall and share some wisdom with our students.
Many of our students had the opportunity to perform for Botti and received wonderful feedback from him.  The students all did an exceptional job and Botti was impressed.
Then Botti opened up the room for questions.  He shared his musical and practice philosophy.  He lives in New York and every day he goes to a music school to practice.  One of his greatest joys is his long practice sessions – 5 to 10 hours a day.  He described being a jazz musician as being on a train on a track.  The railroad track has two rails.  Each rail has to be solid or the train will go off it's track.  One rail is technical proficiency (mastery) of your instrument.  The other track is musical vocabulary and creativity.  Each has to be solid.
He encouraged students to transcribe solos of artists they love and play them over and over in practice until they bubble up on the bandstand.  He told our students that they will know intuitively if they are destined to become professional musicians, and if they are, convince themselves, their parents and the world.
Botti then invited everyone at the master class to attend his concert that evening.  Thank you so much, Chris, for sharing your time and your passion with us today!  You are truly and inspiration!