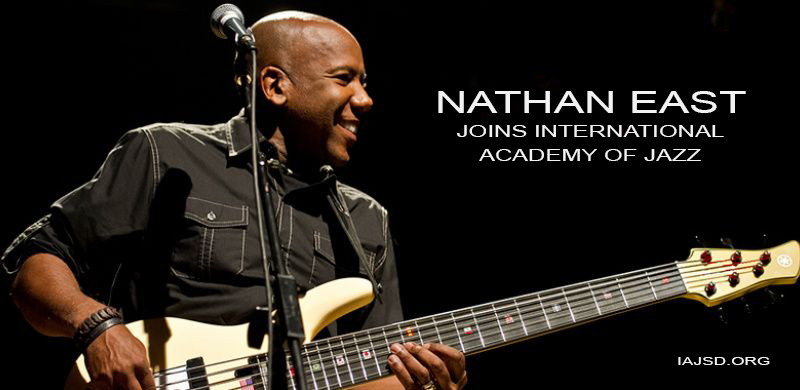 Nathan Harrell East, born on December 8, 1955 in Philadelphia, PA was raised in San Diego along with his 6 siblings. In seventh thru ninth grades, Nathan played cello in his local Horace Mann junior high school's orchestra and at age fourteen he developed an interest in the bass guitar, playing in church, Christ The King, for folk masses. Influencers included Charles Mingus, Ray Brown and Ron Carter on upright bass; and James Jamerson, Paul McCartney and Chuck Rainey on electric bass. He continued his music studies at UC San Diego. SEE HIS BIO
Nathan Harrell East has become an American jazz, R&B, and rock bass player and vocal legend.
With more than 2,000 recordings,
East is considered one of the most recorded bass
players in the history of music.
With strong roots planted in San Diego, Nathan supports the mission and efforts of the International Academy of Jazz. He has recently joined our non-profit as an advisory board member and we look forward to collaborating with Nathan as we develop our non-profit.
Through the Years – from Guy Gonzales
"I first heard of Nathan East through the grapevine at my high school (San Diego's Crawford High School). Word was that we had just added three amazing new students to our school's jazz program. After finishing high school, Nathan and I would find ourselves in dance bands (his called POWER, mine called SAVOR), which were at times competing with each other to perform for local events and every once in a while playing at the same event.
Years later Nathan, Hollis Gentry and Carl Evans (Hollis and Carl would later form the popular San Diego jazz band FATTBURGER) had a quartet that would play at a small little downtown club called THE CROSSROADS, and occasionally I would go head down there to sit in with them.
Years later and at different time periods,
we each had a stint in one of San Diego's premier
night club dance bands called THE PEOPLE MOVERS.
For a handful of years Nathan and I had been talking about how he might be able to support IAJSD and the impact we are having on young San Diego County jazz students. Considering Nathan's touring schedule for his own CD project, and his 30+ year history and commitment to tour with Eric Clapton, plus his busy career as one of LA's top studio bassists, I was absolutely thrilled when he accepted my invitation to join THE INTERNATIONAL ACADEMY OF JAZZ Advisory Board of Directors."