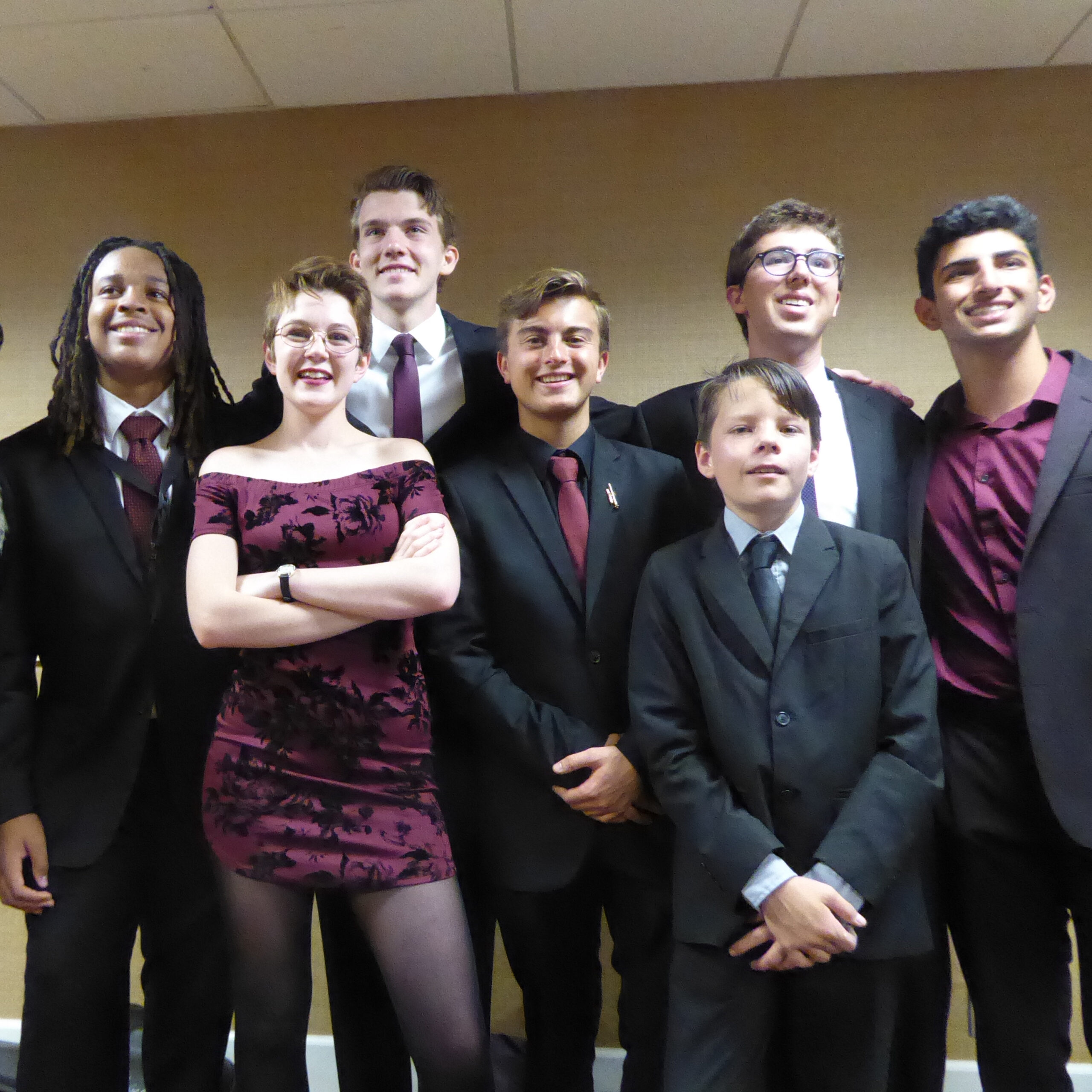 In the photo, left to right, Alvin Paige (sax), Zion Dyson (vocals), Johnny Steele (drums), Nick Vedder (trumpet), John Murray (bass), Jason Picker (keys), Andrew Martinez (guitar)
On Friday, March 31, seven students in Gilbert's 9am class and their families made their way up to Monterey for the 47th annual Next Generation Jazz Fest.  We met at Round Table for a quick dinner and then headed off to the Opening Night Concert at the Golden State Theatre.  The concert, also called "The Judges Concert," features festival adjudicators.  We were so lucky to hear performances by NextGen artists in residence John Clayton, Jeff Hamilton and Gerald Clayton, and to hear our own Gilbert Castellanos, and other greats.  This concert would have cost big bucks, but NextGen students and their families were able to attend for free.  The whole festival is free and open to the public.
On Saturday we attended a clinic, "Engaging in Musical Conversation" with Danae Greenfield Quartet, from Berklee College of Music.  Student musicians were encouraged to listen deeply to their other band members and have a real musical conversation.  After the clinic our students and families met for lunch at Peter B's Brew Pub and then we went our separate ways to explore the festival.  I loved watching the High School Jazz Vocal ensembles and the High School Combos and High School Big Bands.  We also enjoyed checking out the college fair and learning about top jazz programs in the country.  We had fun saying hello to our friend Dan Atkinson at the UCSD Jazz Camp table; hopefully he recruited a few students!  Our group assembled again at 4pm at Turn 12 Bar and Grill where our IAJSD students were scheduled to do a Spotlight Performance.  They had a 30 minute slot and put on a great show!  I think they were inspired by all the great music they had been exposed to.  The crowd loved them.  Parents stayed for a gourmet dinner while the kids went off to watch the College Combo competition.  We met up again at Golden State Theatre for the evening concert featuring the top 2 High School Vocal Ensembles, the top 3 High School Big Bands, and the top High School Combo.  The concert concluded with a special performance by The University of North Texas Big Band which is recognized as the top college big band in the world.  It blew us away!
Sunday was competition day.  We assembled in the lobby of the Portola Hotel at 1:30 and Gilbert led the kids up to the warm up room.  Parents went in to The Portola Room to catch some of the other bands in our students' category, High School Conglomerate Combos.  There were six bands competing.  I got to see the SFJAZZ High School All-Star Combo and, man, they were good.  They ended up winning the competition.  Then our students came in to perform.  Yeah, they had to follow the top group!  They did "Child's Play," "Sentimental Mood" and "Air Mail Special."  They performed really well but I must admit that I was so nervous I can't really give you an objective report!  Our students stayed to watch the rest of the competition.  An hour later we went to The Golden State Theatre to hear the results of the competition.  The outstanding soloists were announced and a female trumpet player was given a scholarship to go to college at The California Jazz Conservatory (run by my old piano teacher Susan Muscarella!).  The top three High School Conglomerate bands were named and our kids didn't place.  It was a little sad for everyone because we have worked so hard but hey, I think the kids are winners just being asked to compete.  The competition up there is fierce!
I'm very proud of our students.  They performed well, conducted themselves well at all the festival events, and represented IAJSD beautifully.  I'm also so happy to have gotten to know the wonderful IAJSD families.  We had some great bonding experiences.  This community is such a blessing.  I sure hope we get the opportunity to participate in NextGen next year!  It is an amazing experience.
-Amy Dyson (Zion's mom)
Here are links to the NextGen Competition performance recorded by Bill Bamberger, Zion's grandpa.  He was sitting in the front row and got some great footage.  I can't believe these kids didn't win!
April 2, 2017 – Gil's 9 am Class performing at Next Generation Jazz Fest in Monterey, California, April 2, 2017