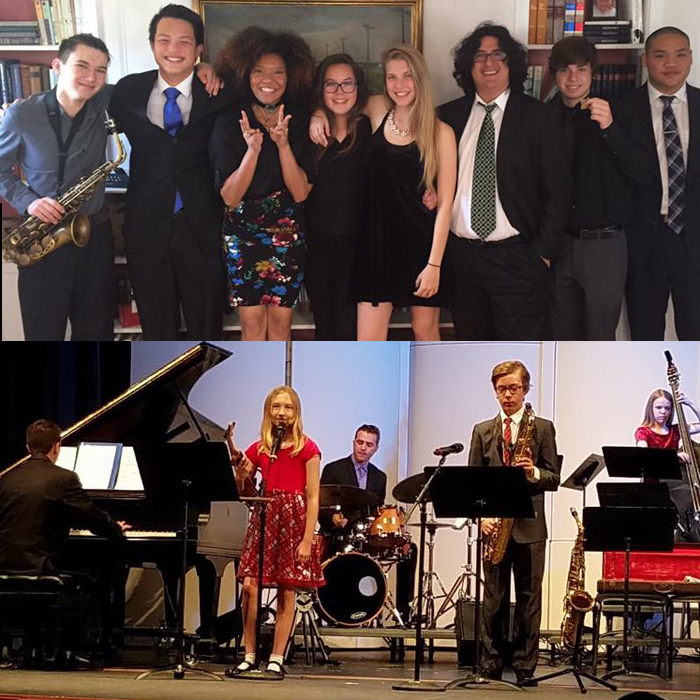 Rob Thorsen's 9am and 11am ensembles performed at Point Loma Nazarene College Jazz Fest this Saturday March 25.  Both groups received high marks from the judges.  Rob commented, "I am very proud of my two ensembles. Both groups tore it up! My ensemble l (9am) got a superior rating and my ensemble ll (11am) got an excellent rating. Great job Julian Roel, Jarien Jamanila, Jiakai Chang, Emma Christie Foster, Edward Gabrielyn, Angelica Pruitt, Eric Wesling, Carmen Murray, Nick Caldwell, Veena Dorazio, Dharma Dorazio, Benny Simon and Bryce Jacobs!  Special thanks to judges Christopher Hollyday and Willie Murillo and festival director John Dally."
Angelica Pruitt, bass player in Rob's 9am ensemble, received an "Outstanding Soloist" award and a scholarship to attend Parker Jazz Summer Workshop!
Jason Picker performed with his school combo, Canyon Crest Academy, but we know him better as Gilbert's 9am pianist.  Jason also received "Outstanding Soloist" with a scholarship to attend UCSD Jazz Camp!
Congratulations, students!  We couldn't be more proud. And, thank you, Rob, for giving these kids a wonderful performance opportunity and coaching them to success!