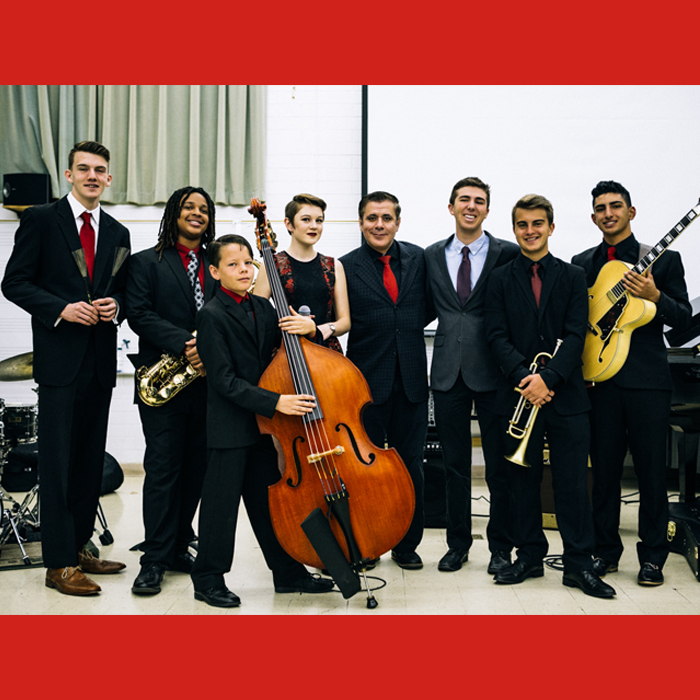 Gilbert Castellanos' 9am ensemble was accepted as a finalist in The Next Gen Jazz Festival!
Next Gen Jazz Fest in Monterey, CA, will take place March 31 – April 2. It is an invite only festival. Gilbert's 9am combo (from left to right: Johnny Steele, drums, Alvin Paige, sax, John Murray bass, Zion Dyson, vocals, Gilbert Castellanos, instructor, Jason Picker, piano, Nick Vedder, trumpet, Andrew Martinez, guitar) submitted an audition recording in December and on Jan 27 received the good news that they were accepted to the festival! They will be competing with 5 other bands in the High School Conglomerate Combo category. This category is for ensembles with students attending different schools.  The winning group gets the opportunity to perform at the big Monterey Jazz Fest in September. During their time at Next Gen students will have the opportunity to audition for both the Berklee College and Berklee Five Week Session. When IAJSD attended the festival last year Zion Dyson received a full scholarship to attend Berklee Five Week.
Feel free to have a listen to the audio recordings (mp3) Gil's 9am combo submitted for their Next Gen audition:
All IAJSD students have the opportunity to audition for the Next Gen Jazz Orchestra. Video submissions are being accepted until March 15. Click here for more information:
http://www.montereyjazzfestival.org/NGJO
The Next Gen Jazz Orchestra has a special place in Gilbert's heart. He performed with the Next Gen Jazz Orchestra when he was 16 and still in high school. There he had the life changing experience of performing with Dizzy Gillespie and touring Japan. Gilbert continues to give back to Next Gen – he will be serving as an adjudicator for the festival for the second year in a row.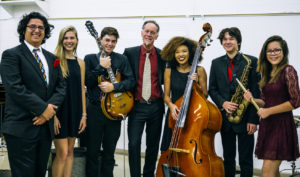 Rob Thorsen's 9am Ensemble is planning to attend The Fullerton College Jazz Festival! The festival takes place Friday April 21 and Saturday April 22. Our students will perform, attend other high school band performances, learn while attending master classes and clinics, and enjoy faculty concerts.
It is our hope that these festivals will inspire and educate our outstanding students.
In photo left to right: Edward Gabrielyan, Emma Foster, Eric Wesling, Rob Thorsen, Angelica Pruitt, Julian Roel, Carmen Murray
Good luck at the festivals! Make IAJSD proud!