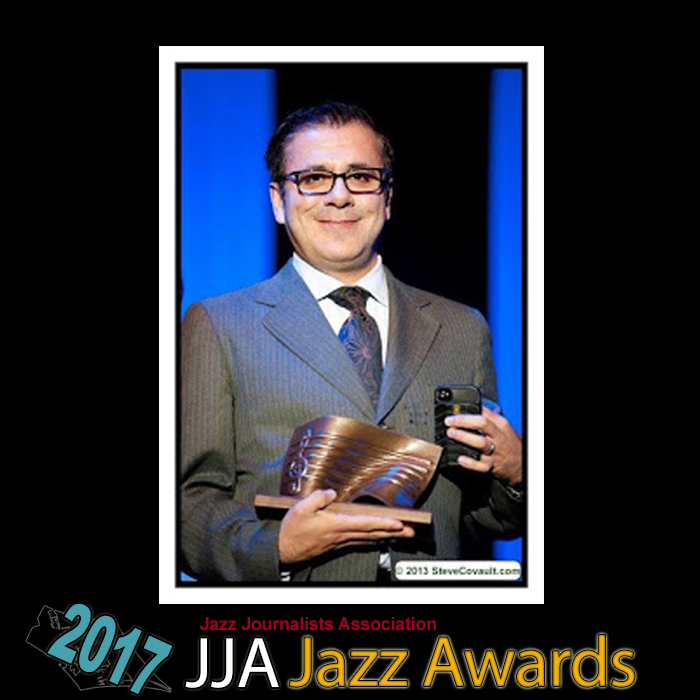 The Jazz Journalists Association is pleased to announce the 2017 Jazz Heroes: Advocates, altruists, activists, aiders and abettors of jazz who have had significant impact in their local communities. The 'Jazz Hero' awards, made annually on the basis of nominations from community members, are presented by their local fans and friends in conjunction with the JJA's annual Jazz Awards honoring significant achievements in jazz music and journalism.  Our very own Gilbert Castellanos has been awarded the title of "San Diego Jazz Hero" by the Jazz Journalists Association. This is a big deal. Lori Bell got this ball rolling with her nomination of Gil, and Robert Bush wrote (most) of the nomination letter.
As you know, Gilbert is more than a virtuoso jazz trumpet player, he is a passionate educator who  invests his time and energy in young students.  Here's a quote from Gil from the nomination letter:
"I want to invest my time into the future of jazz," Castellanos says. "I think it's extremely important to pass that torch down to the next generation. I want to teach these kids to play jazz the way I was taught when I was their age. I was lucky enough to hang out with Dizzy Gillespie and all the greats and they showed me things that you cannot learn in school. You have to be school smart and street smart. I've done both."
Read the full nomination letter here: http://www.jjajazzawards.org/p/2017-jazz-heroes.html…
We will be having a ceremony in his honor on April 26, 2017 at Panama 66 in between the Young Lions and jam session performances.  In fact, the mayor has proclaimed April 26 will officially be, "Gilbert Castellanos: Jazz Hero Day" in San Diego!  CONGRATULATIONS Gilbert C. Castellanos!